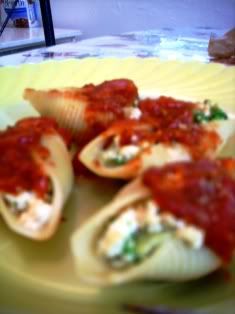 Few months ago I went to Freshmart and bought a little box that came with 3 stuffed shells with a vegan ricotta-like "cheese"[tofu] and with broccoli, spinach, spices and sauce. That for $5 and some cents, yes pricey for only 3 shells. I've never made any stuffed shell pasta before. And I loved those I bought, so I got ideas and made them my self today because I save more $ doing them myself and are fresher. I think I was kinda lazy or was very busy so I didn't made this before. But I did today and I loved the results, my mom tried them and she loves it! I did all to taste so I don't have exactly amounts of the ingredients, but accommodate them to your needs and taste.
Ingredients:
-Jumbo Pasta shells
-Firm or Extra firm Tofu (mashed well)
-Sugar
-Basil
-Onion powder
-Garlic Powder
-Few tsp. of fresh lemon juice
-Sea salt
-Spinach (thawed and squeezed dry)
-Broccoli
-A little soy milk (depending on how many shells are you doing)
-Your favorite tomato sauce
-Vegan Parmesan Cheese
Directions:
Preheat oven to 350 F
Prepare the pasta shells according to the package directions. Drain and set aside.
Prepare the broccoli. Drain and set aside.
Place the tofu, sugar, soy milk, garlic powder, lemon juice, basil, and salt in a large bowl and mash together with a fork until it has a ricotta-like consistency.
Add the spinach & cooked broccoli and mix again. Set aside.
Pour half of the tomato sauce into a casserole dish. Fill each pasta shell with the "cheese" filling and place it, open side up in the tomato sauce. Continue until all shells and filling are used up. Pour the remained tomato sauce over the stuffed shells and sprinkle some vegan parmesan cheese over the top of the entire dish.
Cover pan with aluminum foil and bake for some minutes until all are good, and the sauce is not dried up. Remove foil and bake few minutes more.
Serve and Enjoy. =)